Show up looking professional and polished with custom images for your social media that have your logo embedded.
Finally, feel ease about your social media and have control of it with an easy to follow media cheat sheet showing you how to post, what, why and when.
Have answers at your fingertips with a personal 1 on 1 consultation call that's included in your smart and savvy package.
Use the bonus of a group to ask questions when needed for up to 3 months with like-minded entrepreneurs.
If all this sounds too good to be true at an affordable rate for a start-up or small business keep reading I have a surprise for you!

What's the Issue?
You want to improve up your business social media but you don't have the budget to hire a social media assistant. And you don't have the tools or know how to do it yourself.
Why is it an issue?
It hurts your business & sales. It makes you appear less professional than you would like to. You know you can achieve more sales & make real connections if you can find a way to better present yourself online. You are tired of trying to figure this out solo and are ready to invest in your success.
How to fix it?
Believe it or not, you can get over this hurdle with just a little help at an affordable cost. After purchasing the "Media Blue Print Package" you will walk away with the know-how to better connect and sell to your audience. A polished look for your online presence. and proven social sharing strategies that anyone can do on their own in a small amount of time.

For a one time payment of only $100 this package delivers! It gives you an amazing custom photo bundle with your logo as the highlight of each photo -AND- a custom cheat sheet for social media, showing you how to use those photos, along with a few marketing ideas for your biz.  It includes 1 phone consultation if needed to walk you through any questions you have about the custom how to plan. And as a bonus, you have access to join the "Virtual Lyfe Business Group" to ask questions as needed for up to 3 months with other like-minded entrepreneurs!
For the start-up business or small business what's not to love here? The Media Blue Print Package puts you where you want to be with a one-time payment vs monthly cost. You get all the goods listed above and 6months of support in the group.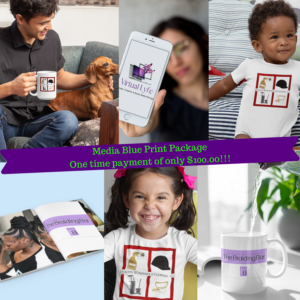 How does it work?
You make payment and provide your business information i.e. type of business, products/services and your logo in JPG or PNG.
In 4 business days, you receive 20 custom images and a DIY plan for your business for social sharing along with a few marketing ideas.
If you have any questions about the DIY plan or marketing ideas you are able to schedule a 1 on 1 personal consult free of charge as part of your purchase.
As a bonus, you have access to join the Virtual Lyfe Business group to ask more questions and chat with other members anytime you like!